ZOFORBIT: A Space Odyssey. Works by George Crumb, Gustav Holst, David Lang and Urmas Sisask.
ZOFORBIT: A Space Odyssey. Works by George Crumb, Gustav Holst, David Lang and Urmas Sisask.
ZOFO PLAYS TERRY RILEY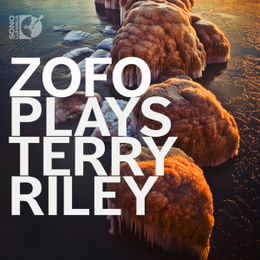 "...an album that seizes your attention with the very first notes"
- SAN FRANCISCO EXAMINER
 
"one of the finest Riley discs in a very long time"
- BUFFALO NEWS
ZOFO is at it again, this time with a stunning all Terry Riley album which includes original compositions, arrangements and a special commission by the duet. It is quite evident in this music that the composer and the performers were personally engaged in the making of this electrifying project. From the very beginning, Terry Riley worked in collaboration with ZOFO in the making of this album. Mr. Riley himself said: "There is nothing quite like hearing the full 8 octaves of a piano sounding in all its orchestral richness." He certainly makes full use of the sounds of the piano in the pieces originally written for piano-four-hands, from The Heaven Ladder, Book 5, which include the varying "Cinco de Mayo," "Jaztine," "Waltz for Charismas," "Tango Doble Ladiado,"and "Etude From the Old Country." Keisuke arranged "G Song" and "Half-Wolf Dances Mad in Moonlight," which were originally composed for the Kronos Quartet, and Eva arranged "Simone's Lullaby," originally for solo piano. The arrangements were both challenging and fun to create, but ZOFO managed to keep the transparency and flavor of Riley's originals while exemplifying the unique potential for four-hand piano. The "Praying Mantis Rag" was composed especially for ZOFO, and actively illustrates their vibrant character as a duet.
LISTEN
> Etude from the Old Country
> Jaztine
> Half-Wolf Dances Mad in Moonlight
> Simone's Lullaby
> G Song
> Cinco de Mayo
ZOFORBIT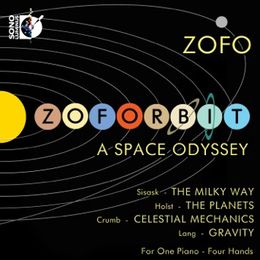 "This is a great album, a true surround sonic spectacular, and full of superb performances that should not be missed."
- AUDIOPHILE AUDITION
Best of 2014: Classical CDs  "...scintillating, physically thrilling"
- THE ARTS DESK 
 
"...a definite high-water mark...a delight!"
 - GAPPLEGATE CLASSICAL-MODERN MUSIC REVIEW 
ZOFORBIT, ZOFO's third album with Sono Luminus Records, takes the listener on an intergalactic voyage through the Milky Way, with musical visits to the planets of our solar system, to bright stars of the galaxy, and back again.
Estonian composer Urmas Sisask sets the mood with the other-worldly sounds of his composition The Milky Way, featuring innovative inside and outside the piano techniques that evoke a sense of the cosmos. The journey continues with a tour of Gustav Holst's The Planets, and visits to the stars Alpha Centauri and Beta Cygni as musically envisioned by George Crumb in his one-piano-four-hands masterpiece Celestial Mechanics (Makrokosmos IV). The space exploration concludes with David Lang's Gravity, which metaphorically coaxes the listener back to earth in slow-moving patterns of descending notes.
All is presented with stunning sonic clarity and color on this Pure Audio Blu-ray™ release which includes a Blu-ray™ copy with high resolution surround sound and stereo versions, standard CD, and digital copies via mShuttle.
MOSH PIT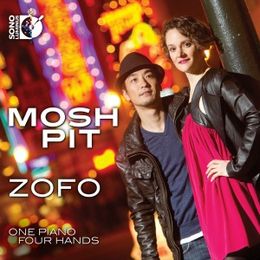 "...vibrant, beautifully blended playing...a suave deployment of four hands at one piano"
- SAN FRANCISCO CHRONICLE

"MOSH PIT is a slam-dunk winner"
- BLU-RAY AUDIO
"a delightful romp of an album"
- SAN FRANCISCO EXAMINER
Eva and Keisuke put their considerable keyboard skills to the test in this second release on the Sono Luminus Records label. The album offers an adrenalized exploration of dance themed duet compositions by six distinctly American voices of the 20th and 21st centuries - George Gershwin, Conlon Nancarrow, Allen Shawn, Samuel Barber, John Corigliano and Paul Schoenfield. The pieces featured on MOSH PIT tour a wide range of evocative dance styles and rhythms, from Gershwin's driving rhumba in Cuban Overture to Barber's sensuous Hesitation Tango to Paul Schoenfield's dizzying Boogie from Five Days from the Life of a Manic Depressive.
Drawing inspiration from classical, modern, jazz and rock and roll forms, the MOSH PIT repertoire and ZOFO's inspired interpretations might tempt you to the dance floor.
 
TRACK LIST
GEORGE GERSHWIN: Cuban Overture
CONLON NANCARROW: Sonatina
JOHN CORIGLIANO: Gazebo Dances
SAMUEL BARBER: Souvenirs
ALLEN SHAWN: Three Dance Portraits
PAUL SCHOENFIELD: Five Days from the Life of a Manic Depressive
LISTEN
> George Gershwin: Cuban Overture
> Allen Shawn: Hard Edged, from Three Dance Portraits
> John Corigliano: Waltz, from Gazebo Dances
> Samuel Barber: Galop, from Souvenirs
VIDEO: "BOOGIE" Paul Schoenfield
VIDEO: "HESITATION TANGO" Samuel Barber
VIDEO: "THREE DANCE PORTRAITS" Allen Shawn
PURCHASE:  Amazon   ITunes   HDTracks
MIND MELD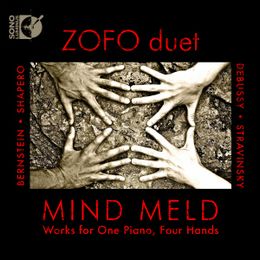 2013 GRAMMY Nominee:
Best Chamber Music/Small Ensemble Performance
- SAN FRANCISCO CLASSICAL VOICE
Released by Sono Luminus in spring 2012, MIND MELD was nominated for GRAMMY Awards in the categories of Best Chamber Music/Small Ensemble Performance and Producer of the Year, Classical. The album continues to attract widespread positive critical attention and major airplay around the world.
MIND MELD brings together stunning duet works by four noted 20th century composers and pianists who knew each other, learned from each other, and sometimes shared the bench.
 
DIGITAL SPLIT EP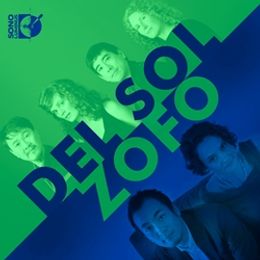 Only a download away, Sono Luminus' first Digital Only EP showcases ZOFO and the dynamic Del Sol String Quartet. This split EP features three world premiere recordings and is ready on demand.
The EP starts with a combined piece by composer Kui Dong, blending the two ensembles with an exciting mix of piano-four-hands, string quartet, and two toy pianos.
The second and third pieces on the album are two movements from Mason Bates' work Bagatelles for Amplified String Quartet and Electronica, a piece made possible by the Chamber Music America commissioning program. Del Sol gave the piece's world premiere at the 2012 Cabrillo Festival of Contemporary Music in Santa Cruz, California.
Finally, ZOFO blazes through the piece Vaporize by composer Joe Duddell.