Ravel, Schubert, Bernstein, Sisask, Tchaikovsky, and a world premiere by David Biedenbender
"...dazzling" - LOS ANGELES TIMES
Since joining forces as a professional duo in 2009, internationally acclaimed solo pianists EVA-MARIA ZIMMERMANN and KEISUKE NAKAGOSHI - ZOFO - have electrified audiences from Carnegie Hall to Tokyo Japan with their dazzling artistry and outside-the-box thematic programming for piano-four-hands. This GRAMMY-nominated, prize-winning Steinway Artist Ensemble - one of only a handful of duos worldwide devoted exclusively to piano duets - is blazing a bold new path for four-hands groups by focusing on 20th and 21st century repertoire and by commissioning new works from noted composers each year.
"ZOFO's feisty performances surge with athletic precision, joy" - WASHINGTON POST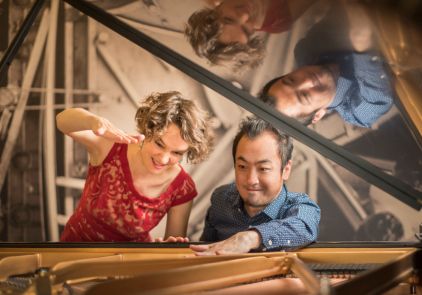 ZOFO, which is shorthand for 20-finger orchestra (ZO=20 and FO=finger orchestra) also performs heart-pumping duet arrangements of famous orchestral pieces such as Stravinsky's "Rite of Spring," exploring the realms in which many composers first experienced their symphonic visions.
"...electrifyingly out of this world" - BACHTRACK